From The Ashes: David Gower on 'nightmare' 1989 series
From the Ashes is a series of features and podcasts which dig deeper into tales of pain, despair and sometimes triumph in cricket's fiercest and most storied Test series.
When David Gower was asked to be interviewed about the 1989 Ashes, he replied: "of all my Ashes series, you want to talk about the worst one?"
A four-time winner – twice down under – Gower has played more Tests for England against Australia, 42, than all but Colin Cowdrey.
An elegant left-hander with a cover drive that could make a statue swoon, only the great Jack Hobbs made more runs for England against the Aussies than Gower's 3,269.
As captain in 1985, Gower led England to a 3-1 series win while making 732 runs in the process. He did so with an added bonus on offer.
"I was sponsored by Wiggins Teape, the stationery people," Gower tells BBC Sport. "Their MD happened to be an admirer of fine wines and spirits. I was a port lover.
"He said 'for every hundred you get in this series, I will give you a bottle of pre-War port'. I had three to be presented at the end of the summer – and it turned out to be three bottles from before the First World War. They are still in my cellar."
David Gower celebrates Ashes victory in 1985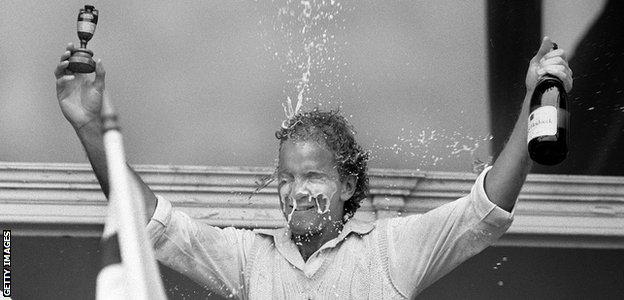 Little did Gower, or anyone, know that 1985 was to be the last time England won a home Ashes series for 20 years, a desolate run that began when he was put back in charge for what turned out to be the calamitous 1989 contest.
"Whereas 1985 was a summer when things went very smoothly, in 1989 it started badly and it never got any better," says Gower.
"There were so many things that went on, on and off the field. It was nothing short of a nightmare."
England lost 4-0 and might have been beaten in all six Tests had it not rained. Australia started as huge underdogs, but a team containing rising stars Steve Waugh, Mark Taylor and Ian Healy were given a hard-nosed edge by captain Allan Border.
Australia used only 12 different players. England famously used 29.
"I look back on this with some sort of shame," says Gower. "The revolving doors that helped the team dissolve into nothing were whirring around ferociously."
Thumped by 210 runs in the first Test at Headingley, England arrived at Lord's looking to draw level.
After three days, England had given up a first-innings deficit of 242 and were 58-3 in their second innings, with Gower unbeaten at the close. This was the era of a Sunday rest day, and captain Gower was required to speak to the press on Saturday night.
Grilled by journalists – including his former England team-mate Phil Edmonds – on topics like the ends which he had decided to bowl his bowlers, Gower got up and left midway through the press conference.
Dressed in a grey blazer and clutching a can of beer, Gower announced "that's it boys, I'm off", left Lord's in a waiting cab and went to a theatre production of Anything Goes, where he was the guest of Sir Tim Rice.
"If anything went, I went," he says. "That theatre night became part of the poor history of that series.
"There aren't many England captains that have decided enough is enough, that the writers can make up their own headlines and I won't be helping them with them anymore.
"There was a lot of emotion within. If ever I was going to snap, it would probably have been then. Under those circumstances, a press conference was probably the wrong place to be. As far I was concerned, there was no point in staying."
David Gower is bowled by Geoff Lawson at Lord's in 1989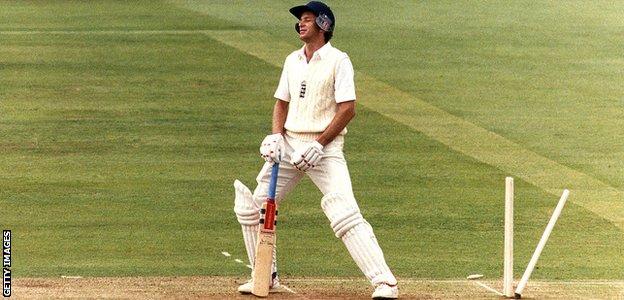 Gower spent the rest day at the exclusive Hurlingham Club doing interviews to make amends. He returned to Lord's on Monday and completed a century, but the Test was still lost by six wickets.
Even the return of the previously injured Ian Botham could not inspire England in a rain-affected drawn third Test at Edgbaston. By the time they got to Old Trafford for the fourth, the Ashes were slipping away and Gower's summer was about to get even worse.
"By the Saturday night at Manchester, the sub-plots were becoming major plots," says Gower.
It was revealed that 16 English players had signed up for a rebel tour of South Africa – banned from international sport because of Apartheid.
Not only that, but Gower had been captured by the TV cameras of News at 10 making the V sign behind his back to a heckler in the crowd.
"Ted Dexter, the chairman of selectors, phoned me and said we had problem and that I needed to speak to the press to apologise," says Gower.
"I said 'no, we do not. I have nothing to apologise for'. With everything else that was going on, I told Ted he could do whatever he wanted to do.
"It made me very angry that something as insignificant as that made it on to News at 10 and became yet another cudgel with which to beat me over the head with."
More was to come on the final morning of the match as Gower checked out of the Mottram Hall Hotel with the Ashes about to be sealed by the Australians.
"Halfway through the team dinner the night before the game, we had run out of the wine chosen by Micky Stewart, the team manager," he recalls.
"When we were asked if we would like more wine, I had a look at the list, which was outstanding. I looked at the Cheval Blanc, I can't remember which year, and asked slightly disingenuously if I could go for it at £180 a bottle.
"I got the nod of approval, so we ordered a couple of bottles, thinking 'if nothing else, at least the wine has been excellent'.
"The final morning of the game, when we're leaving the hotel, Micky had to look at the bill. He thought it was a bit expensive and spotted the details of the two bottles of Cheval Blanc.
"On top of everything else, he comes to me and says 'captain, do you think you could arrange for a bit of a whip round because the wine bill was a bit too much'.
"I will not repeat what I said to Micky."
The beaten captain drove away from Manchester feeling "low". Incredibly, Gower's next game was only four days later for his county Leicestershire – against the touring Australians.
He invited Border and David Boon to his house during the game. In a version of Sabrage – the act of opening a bottle of champagne with a sabre sword – Gower used an axe and nicked Border's face with a piece of flying glass.
Gower was sacked as captain at the end of the series and did not tour the West Indies the following winter. He did, however, return to the England team in time for the 1990-91 tour of Australia, which produced his most infamous Ashes moment.
England were 2-0 down, but Gower was in good form. He had top-scored in both innings of the first Test and made hundreds in each of the next two.
Still, he struggled with the strict regime of captain Graham Gooch, perhaps inspired by Gooch's close relationship with Border.
After three Tests, England were playing a tour game in Carrara on the Gold Coast. Just across the road, Tiger Moth aeroplanes were taking off on scenic tours of the beaches. Gower could not resist.
"I'd got out before lunch on day three and my mischievous side crept in. I was talking to Allan Lamb and said 'AJ, I might take one of those planes up, it looks like fun'. John Morris overheard the conversation and asked if he could come to – one of the worst sentences he spoke in his life," says Gower.
"We put the flying cap and goggles on. The pilot was called Bruce, who agreed to do a low-level run along the line of the pitch. The camera guys had long lenses and realised it must have been me."
When Gower got back to the hotel that night, he found he had been summoned to see team manager Stewart the following morning.
"I did apologise if I'd upset anyone, I just thought it was harmless fun," said Gower. "Things like professionalism, dedication and motivation were discussed.
"We had an hour-long decision where I pointed out I'd made the top score in Brisbane twice, a hundred in Melbourne and a hundred in Sydney. Why don't you ask the other 15 about their motivation?
"They were far too upset for their own good. At one stage it was rumoured they wanted to send us home, which would have been a complete over-reaction. The tour contract stated the maximum penalty was a £1,000 fine, which I paid on the spot."
After the Tiger Moth fuss, Gower's good form deserted him. He played the final two Tests of the series, but only played three more afterwards, against Pakistan in the summer of 1992.
He never made another Test hundred and retired after he was left out of the squad to tour India in the winter of 1992-93. When he called time on his career, Gower was England's leading run-scorer in Test cricket with 8,231.
"An Englishman or Australian with any ability at cricket would love to be involved in just the one Ashes Test," says Gower.
"Over that period of 15 years or so, it was a collection of extraordinary events that helped shape my life. It's something indelible in my heart and mind.
"Some of the best things that have happened to me happened in the course of playing cricket against Australia."